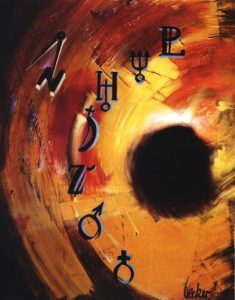 FROM THE SKY COMES THE LIGHT
365-HI-10752 I-10752 WHERE 365-HE EAGLE
90677-RI-60140-365-ED 365-HE
687-ARK OF HI-10752 CLAW-10752
I-60140 365-HE 10752-ABLE,
O-60140-E H-30667-60140-DRED DAY-10752 BEFORE
BREAKI-60140-G HI-10752 BEAK
A-60140-D LOO-10752-I-60140-G HI-10752
FEA-365-HER-10752
Then lend a bow to Apollo:
from this point, he will count 1969,697 measures towards the zenith.
In a fraction of a 46,241,860th of a sidereal day,
his line will fall.
Hasten to find the arrow.
DU CIEL VIENT LA LUMIERE
C'E-10752-365 LA Q-30667-E L'AIGLE
I-687-90677-RI-687-A LA
687-ARQ-30667-E DE 10752-E-10752 10752-ERRE-10752
DA-60140-10752 LE 10752-ABLE,
CENT 4330-O-30667-R-10752 AVA-60140-365 DE 10752-E
CA-10752-10752-ER LE BEC
E-365 Y LAI-10752-10752-ER 10752-E-10752
90677-L-30667-687-E-10752
Alors prête un arc à Apollon :
de là, il comptera 1969,697 mesures vers le zénith.
En une 46.241.860ème fraction de jour sidéral,
son trait s'abattra.
Hâte-toi de trouver la flèche.
See also:
420 – Generally accepted solution