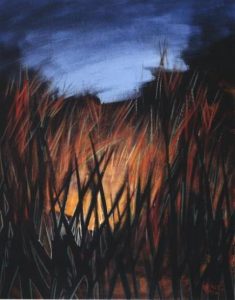 EARTH OPENS
Between them, there would be only two intervals if they were aligned.
But this would be a too easy game!
Now that you have undone all the yarns,
Doubt is the last torment that will be inflicted to you.
Because it is the rule of this cruel game:
Alone, you have to find where to land your shovel.
Show your respect for Mother Nature,
And before getting away, close its injury.
LA TERRE S'OUVRE
Entre eux, il n'y aurait que deux intervalles s'ils étaient alignés.
Mais ce serait là un jeu bien trop facile !
Maintenant que tu as dénoué tous les fils,
Le doute est le dernier supplice qui te sera infligé.
Car c'est la règle de cette partie cruelle:
Seul, tu dois trouver où porter ta pelle.
Montre ton respect pour Dame Nature,
Et, avant de t'éloigner, referme sa blessure.
See also:
link