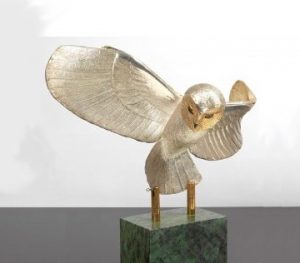 La Chouette d'Or is a sculpture by Michael Becker of an owl with an approximately 50 cm wingspan, weighing about 10 kg in gold and silver and accented with diamonds.
This unique object was initially estimated to be worth one million francs, and as a unique collector's item is likely to be worth somewhere between 250,000 to 350,000 Euros.
This valuable golden owl is not buried, but a replica made of bronze is hidden somewhere in France. The person who solves the 11 clues and finds the bronze owl can exchange it for the real Golden Owl.