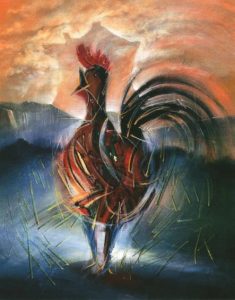 OPENING
My first, first half of the half of the first age,
Precedes my Second and Third, seeking their way.
My Fourth is inspired, my Fifth is in rage,
But, without protest, follows my Fourth and the roman alpha.
My Sixth is hidden at the limits of ETERNITY.
My Seventh, standing, spits his venom.
To find my all, just to be wise,
Because the Truth, in truth, will not be a Devin's affair.

OUVERTURE
Mon Premier, première moitié de la moitié du premier âge,
Précède mes Second et Troisième, cherchant leur chemin.
Mon Quatrième s'inspire, mon Cinquième est en rage,
Mais, sans protester, suit mon Quatrième et l'alpha romain.
Mon sixième, aux limites de l'ETERNITE se cache.
Mon Septième, dressé, crache son venin.
Pour trouver mon tout, il suffit d'être Sage,
Car la Vérité, en vérité, ne sera pas affaire de Devin.
See also:
530 – Generally accepted solution